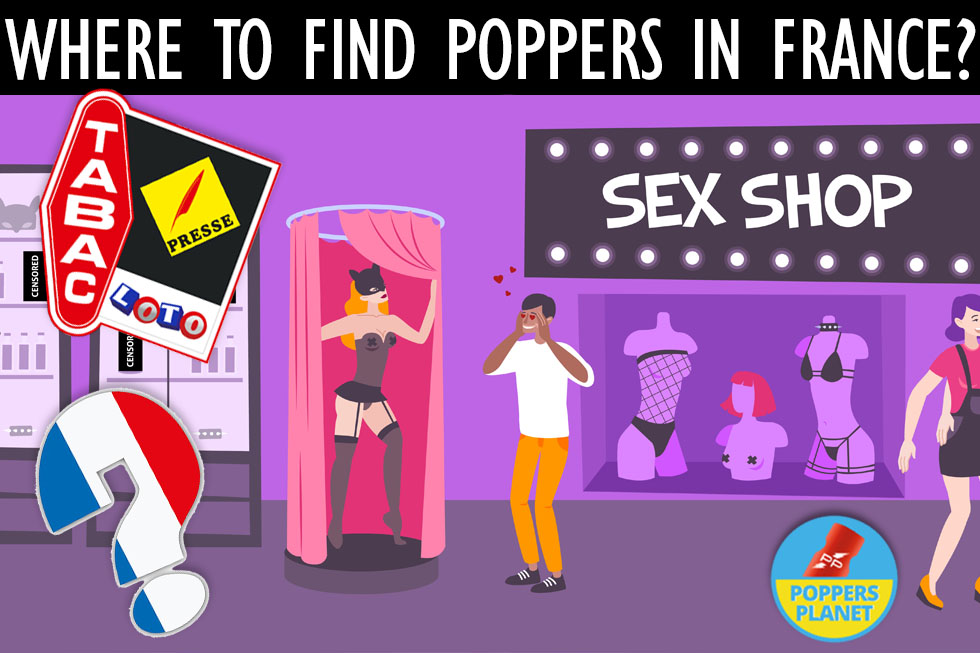 Ever since you tried Poppers at a friend's party or since your last sex plan on Poppers, you've been wondering where to get that elixir of well-being and entertainment, that little extra that made a party a real success, much more than a chocolate rock….
SEX SHOPS AND GAY CLUBS
The historical distributors of Poppers in France are obviously sex shops and gay places (bars, discotheques, saunas, ….).
But the problem is that the number of sex shops in France has literally collapsed in the last 20 years. Although precise figures are lacking, their number would have decreased from 2500 to less than 1000 to date, since the year 2000.
As a result, finding a sex shop near your home becomes difficult.
As for entering a gay sauna just to buy a Popper: it's just impossible for a girl and a bit "risky" for a straight guy ….
ONLINE SALES SITES
If you are reading this article, it means that you know at least PoppersPlanet, so we can't praise enough the merits of online sales sites specialized in Poppers like ours. The interest of these online stores is the large choice, the often very competitive prices, the discretion of the deliveries, …..
In addition, specialized sites often allow you to ask questions or request information anonymously (which is sometimes easier than talking to a sex shop salesman).
On the other hand, if you want your Poppers right away and you can't wait 24/48 hours for delivery, the online store will not be the best solution.
Finally, even though online sales sites often offer fast and discreet delivery, when you pay for your purchase by credit card, you may see "Poppers direct" or "Poppers express" appear on your bank statement, because the discretion of some online sales sites stops at the packaging.
(don't worry, we have also thought about this problem at PoppersPlanet, so the credit card tickets are just as discreet as our packaging).
But some may not want to take the risk ….
TOBACCONISTS AND GAS STATIONS
In recent years, new distribution networks have opened up to the Poppers market, thanks in particular to the French Poppers manufacturer LABORATOIRE FUNLINE. This is the case of tobacco shops, some gas stations and some convenience stores. This typically French channel allows you to buy Poppers close to your home, with relative discretion and without waiting 24/48 hours to receive your magic vial.
An ideal distribution network if you are in a hurry, which generally offers fairly competitive prices.
In short, you will have understood that France is the country in Europe where it is easiest to find and therefore to buy Poppers. So, take advantage of it!
To our readers and customers, if you have a question about Poppers or need advice on your order, please contact us on our contact page, we will be happy to answer you as soon as possible.
Take care of yourself!
Jules from Team PoppersPlanet.
In case of accident, or if a person does not feel well after taking Poppers, we remind you the useful information: http: //www.drogues-info-service.fr Emergency call number: 0800 23 13 13 (from 8am to 9pm, free call from a landline).