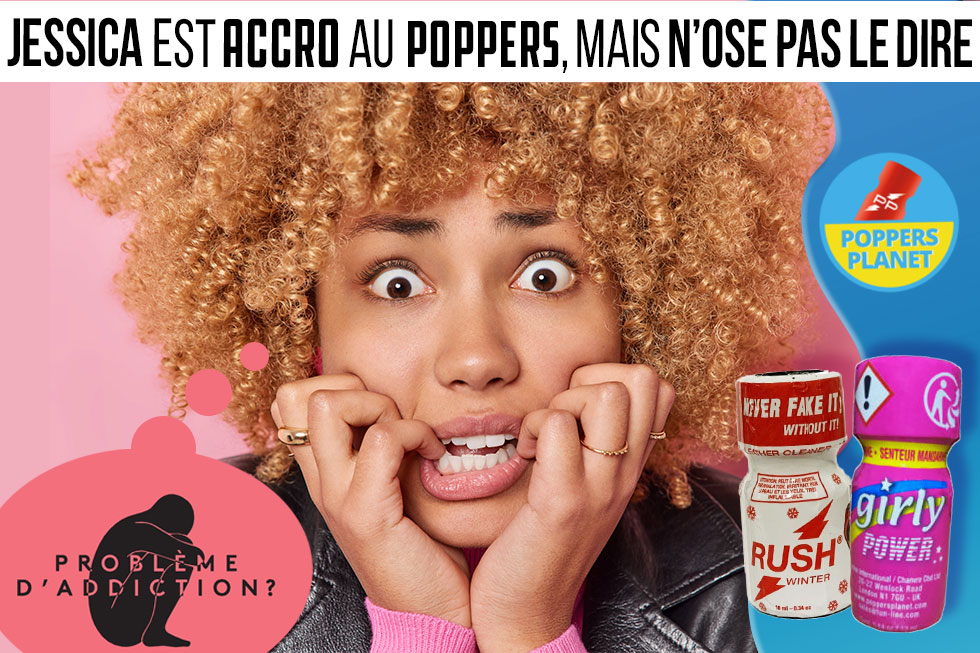 Jessica
(we've changed her name to preserve her anonymity)
has been under the spell of poppers since her first experience with a vial of
Jungle Juice
. Since she doesn't smoke cannabis, never takes drugs and doesn't drink, she began to abuse the party substance in the evening to the point where side effects began to appear.
For some time now, she has felt as if she has lost control because her use is daily. She would like to tell her friends and family, but is afraid of being judged or misunderstood. She feels lost and has contacted the PoppersPlanet team for some advice in this painful situation.
Poppers addiction
When looking for information on the little nitrite vial, most of the articles you can find on the web have the annoying tendency to define poppers as a drug!
This file on the subject is a typical example of the contradictory information one can read about poppers.
If you want to know more about Poppers and addiction, you can read our article: Can Poppers be addictive?
We are all concerned by the problems of addiction and everyone can be confronted one day in one way or another. If you look at the consumer forums, even if it's a rare case, you'll see that you're not the only one, Jess, to be addicted to the powers of the little vial.
Being aware of one's addiction is already a very important first step to start modifying one's habits or reducing too frequent consumption.
Finding solutions to addiction
If it is difficult for you to share your secret with your loved ones, there are alternatives that can help you better manage your emotions and your desire to snort Poppers.
Try self-hypnosis
Self-hypnosis is a technique that allows you to regain self-confidence and stop smoking,
act on negative emotions or relax. This can be an interesting solution to work on oneself. If you want to learn about the powers of hypnotherapy you can watch this video.
Discuss on user forums
There are many specialized forums where you can talk about your use of psychoactive or recreational products, whether they are legal or not. One of the best known is the government assistance platform forum
"drug info service". A lot of information is also available on the website www.drogues-info-service.fr.
Talk about your problem anonymously
If you need to talk about your situation in person and anonymously, the "Drogues infos service" telephone platform is there to provide you with information or leads to get help. Their free line answers at 0800 23 13 13 from 8am to 2am.
Consult an addictologist
If these tips are not enough to help Jessica, it may be wise to contact an addictologist, a doctor who specializes in drug addiction problems.
Many cities have a CSAPA (Centre de soins, d'accompagnement et de prévention en addictologie) where you can meet a professional free of charge who is there to provide you with viable and concrete solutions.
Use your Poppers SAFE
Unlike narcotics, there are no major health risks associated with using Poppers. Nevertheless, here is a reminder of the precautions to take to use this product safely:
Poppers are strictly reserved for healthy adults of legal age
Its use is not recommended for pregnant and breastfeeding women, individuals with heart problems and under medical treatment, or in case of fatigue
Poppers should not be taken with sexual stimulants and should not be taken with VIAGRA or CIALIS.
Skin burns may occur on direct contact with the skin.
It is necessary to avoid breathing too long and too close to the nose and to take care to close again well
its bottle after use
The nitrites contained in a bottle of Poppers are extremely flammable, so it is essential to keep the bottle away from any source of heat
DO NOT DRINK the contents of a bottle of Poppers. Nitrites can be hazardous to health if ingested. It is important to keep the bottle out of reach of children
In case of problems call 15.
PoppersPlanet at your service!
Of course, the PoppersPlanet team remains at your disposal if you have a question or need advice about Poppers. Do not hesitate to contact us on the page poppersplanet.com/contact, we will be happy to answer you as soon as possible.
Take care of yourself!
Jules from Team PoppersPlanet.
In case of accident, or if a person does not feel well after taking Poppers, we remind you the useful information: http: //www.drogues-info-service.fr Emergency call number: 0800 23 13 13 (from 8am to 9pm, free call from a landline).