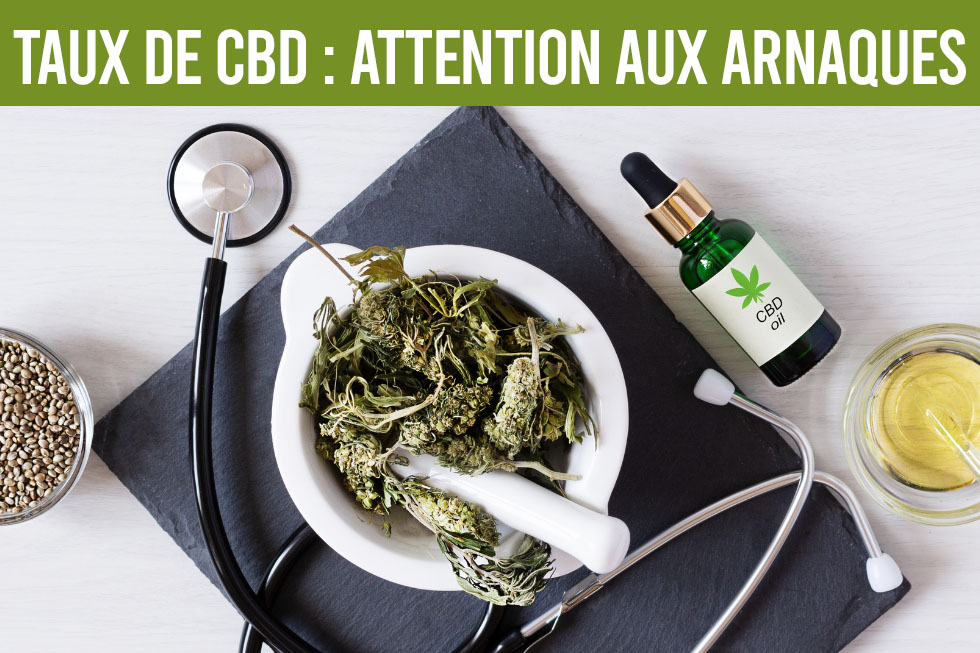 CBD levels: watch out for scams
There are many CBD flower resale sites today.
Among them, some offer flowers with an abnormally high concentration of CBD. Although the offer seems very attractive, it often hides a completely different reality.

What are the CBD levels of a plant?
When the THC level is less than 0.2% (maximum level authorized in France), the level of CBD naturally present in the plant cannot exceed 6.6%.

Why ?
It is a problem of proportionality between the different molecules that make up the cannabis plant.
If the plant contains 1% THC = 33% CBD maximum.
So if the plant contains 0,2% of THC (that is to say 1/5 of 1% of THC): it will contain: 1/5 of 33% of CBD that is to say 6,6% of CBD at most.

Why do we find CBD flowers in France with CBD concentrations well above 6.6%?
A survey of 60 Million Consumers published at the start of 2021 confirmed that many retailers do not hesitate to lie about the CBD level put forward on their website. Several products from reference sites on the CBD market were thus analysed.
Result ? Flowers with CBD levels up to 50% lower than the levels announced by some retailers on the description of their product, but above all, no level exceeding 5%.
In most cases, the retailer's site prefers to display a CBD concentration that is actually the sum of the CBD and CBDA levels present in the plant.

How to avoid dubious practices and choose your flowers safely?
Some actors in the CBD sector, tired of these dubious practices, carry out counter-analysis on the products.
The goal? Protecting consumers through transparency and traceability of CBD products.
During your next purchases, be sure to find out about the dealer by consulting specialized forums and reading the various opinions.

How to choose your CBD flower?
The best advice we can give you is to make sure that the product consumed is 100% natural and untreated.
And if the displayed rate is higher than 6.6% of CBD? Mistrust !
In France, natural plants, without artificial additions and legal, contain a CBD rate of around 3 to 5%.