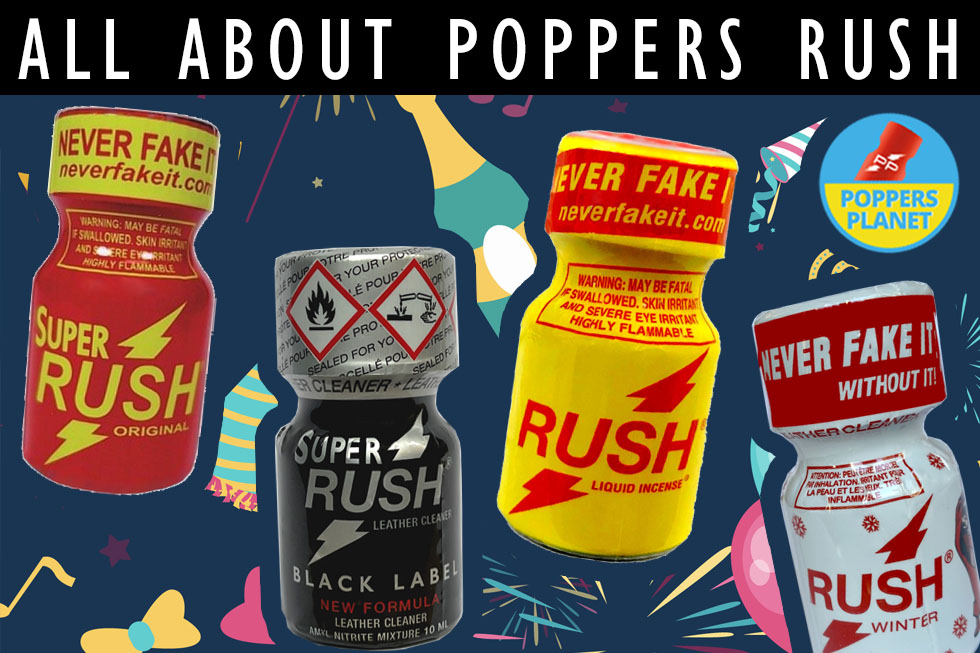 If you are a poppers lover or if you have the occasion to enter from time to time in a sex-shop or in a tobacconist's, it will not have escaped you that the brand which returns regularly the most in ray, is the brand RUSH and in particular,
The
SUPER RUSH 10 ml


Some people even call it "the little yellow one" like a famous brand of aniseed-flavored alcohol that is also a leader in its segment.
And for good reason RUSH is the most sold Poppers in Europe.
THE ORIGINS OF THE RUSH BRAND
The Rush brand was created in the USA in the 60s, sold as liquid incense, it is all the rage in the gay community, for its vasodilator virtues, which facilitates anal penetration. But with the arrival of AIDS and for reasons of national regulations, this brand is in decline in its American market.
On the European market, despite a few attempts to introduce the product in the 70s and 80s, it was quickly banned, as American molecules were prohibited in Europe.
This is how the brand will gradually disappear in Europe.
It has since also largely disappeared from the American market, following the death of the American brand owner, which gave rise to a complicated succession.
It is thanks to the French Laboratory FUNLINE that the brand will be relaunched under a legal form and compatible with the European standards at the end of the 80s, first in France then on the whole European territory, as an aroma of atmosphere then as leather cleaner, with legal molecules in Europe: the nitrite of propyl then later the nitrite of amyl.
HOW TO EXPLAIN THE SUCCESS OF POPPERS RUSH
RUSH is first and foremost recognizable by its 10 ml bottle, a very characteristic bottle made by an American glassmaker, stocky and with a wide neck.
Easy to carry, unbreakable, non-leaking, discreet, it allows an optimal inhalation and thus fast and powerful effects.
Moreover, thanks to the FUNLINE LABORATORY, the RUSH Poppers offers a constant quality, both for its propyl products and for its amyl products.
Finally, thanks to its commercial dynamism, this brand has been able to multiply its products to meet the needs of consumers, which have since evolved considerably.
In fact, a product prized by all types of consumers, RUSH is now a festive product in the same way as beer or alcohol and is increasingly becoming the essential accessory for a successful party.
THE RANGE OF RUSH POPPERS FROM THE FUNLINE LABORATORY
Available in sizes 10 – 13 – 25 – 30 ml, RUSH Poppers are available in propyl, amyl, and even flavored,
RUSH : BEWARE OF COUNTERFEITS
Like any leading brand, RUSH is unfortunately copied by unscrupulous manufacturers. Austrians, English, Canadians, Czechs, …. We do not count any more the false RUSH. Most of them do not comply with European standards and use molecules that are sometimes prohibited or even dangerous to health.
We can therefore only recommend that when you buy a RUSH Poppers to make sure that LABORATOIRE FUNLINE appears clearly on the label.
This is the only way you can safely and confidently use your RUSH Poppers.
To our readers and customers, if you have a question about Poppers or need advice on your order, please contact us on our contact page, we will be happy to answer you as soon as possible.
Take care of yourself!
Jules from Team PoppersPlanet.
In case of accident, or if a person does not feel well after taking Poppers, we remind you the useful information: http: //www.drogues-info-service.fr Emergency call number: 0800 23 13 13 (from 8am to 9pm, free call from a landline).